About Dr. Olga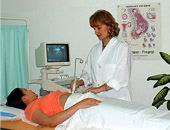 Dr. Olga Borisovna Khabchi is a highly experienced family doctor (diploma in OBS Gynae) working in Dubai, UAE. Dr. Olga has extensive experience both in Dubai and abroad; she is a member of medical associations in 3 countries and an active participant in international medical conferences. Dr.Olga has over 25 years experience with an impeccable record and outstanding customer satisfaction.
Dr.Olga's high professionalism, expert knowledge, use of advanced diagnostic medical equipment and cutting edge methods and treatments, cooperation with well-known German laboratory in Dubai, caring attitude towards patients and reasonable prices distinguish her from other professionals practicing in the United Arab Emirates.
Dr.Olga sees patients without age or language restrictions, while being a native Russian speaker, she is fluent in English and Arabic. She provides qualified consultations and necessary professional help to married couples with any problems.
Services
diagnosis of early pregnancy;
follow up of pregnancy
definition of fetus' gender
diagnosis and treatment of gynecologic diseases (menopause, dysmenorrhea, premenstrual syndrome, uterine bleeding menorrhagia, metrorrhagia, ovarian cysts, inflammatory diseases of a uterus, tubes and ovaries, vaginitis, endometriosis, polyps, fibromyoma of a uterus,endometrial hyperplasia, oligomenorrhea, primary and secondary amenorhea );
earliest diagnosis of ectopic pregnancy and management without operation;
diagnosis of congenital anomalies of a fetus, early screening of Down syndrome
diagnosis and management of infertility
diagnosis and screening of precancer and cancer of uterus. cervix , ovaries, vagina
diagnosis and treatment of fibrocystic breast disease (mastopathy);
diagnosis and treatment of diseases of a rectum;
diagnosis and treatment of general diseases, infectious, pediatric, skin diseases and venereal diseases;
treatment of hirsutism (excess hair), acne, the eruptions caused by hormonal balance's;
gynecology of teenagers;
treatment and prophylaxis of osteoporosis, definition of risk factors.
Consulting of married couples. Homeopathic treatment of chronic and acute diseases, depression , anxiety.
Home visits